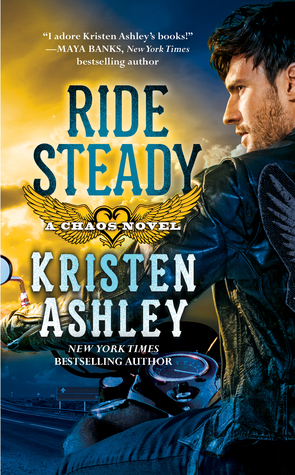 Ride Steady
Synopsis
The ride of her life . . .

Once upon a time, Carissa Teodoro believed in happy endings. Money, marriage, motherhood: everything came easy---until she woke up to the ugly truth about her Prince Charming. Now a struggling, single mom and stranded by a flat tire, Carissa's pondering her mistakes when a vaguely familiar knight rides to her rescue on a ton of horsepower.



Climb on and hold tight . . .

In high school, Carson Steele was a bad boy loner who put Carissa on a pedestal where she stayed far beyond his reach. Today, he's the hard-bodied biker known only as Joker, and from the way Carissa's acting, it's clear she's falling fast. While catching her is irresistible, knowing what to do with her is a different story. A good girl like Carissa is the least likely fit with the Chaos Motorcycle Club. Too bad holding back is so damned hard. Now, as Joker's secrets are revealed and an outside threat endangers the club, Joker must decide whether to ride steady with Carissa---or ride away forever . . .
My Thoughts
The third book in the fantastically amazing Chaos series, focuses on Joker and his lady love Carissa. Through a series of bad decisions and poor family situations, both Joker and Carissa are at a point in their lives when things seem to be at their worst. Joker is completely cut off from his childhood family, has terrible memories of a terrible father, and no mother in his life. He lives for his MC club. Carissa is fresh off a divorce, has an infant to care for, and a job where she works 40+ hours a week. Needless to say, things are complicated.
As with everything Kristen
Ashley
writes, this is another winner. I am a huge fan of the Chaos series and just love the characters. Not knowing too awful much about Joker or his history, it broke my heart to read about his horrific father. Yet, as we have seen in the past, Ashley will bring you down only to bring you back up again.
Unique in this book, Ashley shows more of the inner workings of Ride, the Motorcycle repair business the club owns. She highlights how each person within the club has their purpose and I adore any scene that features Tack, Shy, or Rush.
Another winner, Kristen Ashley took these two seemingly opposite characters and have given them the perfect love story. Things are not always as they seem, as Joker and Carissa show. Each thinks the other has something, but indeed, they fulfill that need in one another. Plus, I think props need to go to Kristen Ashley for writing such wonderful characters that we can't wait to get more of. Its a toss up, but Joker and Shy are in the running for hottest MC book in my collection. Bravo!
Book Details
Publisher: Grand Central Publishing
Date of Publication: June 30, 2015