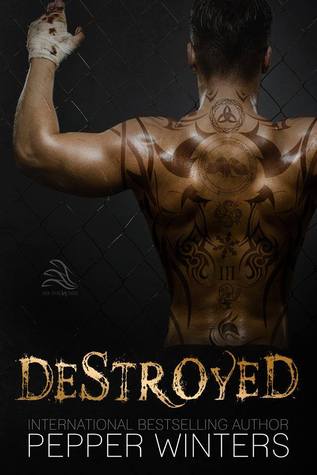 Destroyed
She has a secret.




I'm complicated. Not broken or ruined or running from a past I can't face. Just complicated.




I thought my life couldn't get any more tangled in deceit and confusion. But I hadn't met him. I hadn't realized how far I could fall or what I'd do to get free.




He has a secret.




I've never pretended to be good or deserving. I chase who I want, do what I want, act how I want.




I didn't have time to lust after a woman I had no right to lust after. I told myself to shut up and stay hidden. But then she tried to run. I'd tasted what she could offer me and damned if I would let her go.




One secret destroys them.
Hazel meets Fox for the first time in an underground fighting club. Instantly attracted to one another, she is appalled but intrigued when Fox offers her thousands of dollars for just one month of her presence. They each have secrets and dark spaces in their lives, yet these two people find what's missing in one another.
Fox has survived horrific abuse from his childhood. Taken from his home and forced to perform horrific acts, he has escaped and now runs this illegal fighting club. When he meets Hazel, he's attracted to her pureness. Yet, Hazel needs more from Fox than his presence...she needs money for her terminally ill daughter. Forced to take Fox up on his offer, they each keep secrets from one another while attempting to heal the other.
Extremely complex with complicated characters, Winters has built a dark world unlike anything I have read before. Filled with secrets and dark passions, Hazel and Fox are unable to find salvation by themselves so they turn to one another. I finished their journey but at certain points I felt that the drama was stretched out a little more than it needed to be. The pacing seemed off in places so it wasn't a smooth read but overall the story was solid, sad, and heartwrenching. There may have been tears in a few places.
This is the first Pepper Winters book I have ever read. While I read it to the end and honestly enjoyed it, I must say it was quite dark. Each of the characters fights demons, both outwardly and inward. Now I'm not saying I wasn't warned it would be dark, but it was a bit shocking to me once I had finished how dark the story actually had gotten. I'm not saying its bad, I'm just saying that I should have prepared myself a bit better.
Publisher: Self-Published
Date of Publication: March 7, 2014