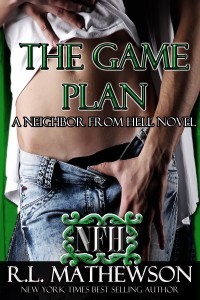 The Game Plan
By: R.L. Mathewson
Synopsis
Spend the next 40 years in prison or break her lease early?




Normally she'd be able to say that this one was a no-brainer, but things have definitely changed since she was forced to move in across the hall from Danny Bradford.




A lot of things……




She wanted to get through one day, just ONE day without Danny Bradford doing something to test the limits to her control, but with that damn smile of his and his habit of leaving her contemplating manslaughter, she didn't see that happening anytime soon.




He loved his family, but some days…….




It was too much, but that was okay, because his small neighbor living across the hallway provided him with endless hours of entertainment. Not on purpose of course, but did it really matter as long she made him smile?
My Thoughts
Hilarious, fun, and quirky are the three words I can't get out my head when reflecting on
The Game Plan
. A sequel to a few of my other favorite Mathewson novels,
The Game Plan
continues the Neighbor from Hell series. I had been eagerly anticipating Danny and Jodi's story and boy, was I not disappointed in the least!
Jodi is coming off a breakup from a truly terrible character. She moved into a new apartment building in an attempt to rebuild her life and career. Things seem to be going fine yet her neighbor, Danny Bradford begins to make her life an absolute living hell. Keeping her up at all hours of the night, stealing her food, and being rather obnoxious, Danny loves making Jodi's life a little more difficult.
Danny has had a hard time of it lately. Recovering from a wound he received while a marine, Danny is intrigued by the small spitfire that lives across the hall from him. When he discovers that she is more than she appears, he finds himself even being more vexing than usual.
Incerdibly funny and cute, I thought this latest addition seemed to fit in well with the others. My favorite characters in previous novels showed up and I was tickled for a brief glimpse into their lives. Danny is heroic, funny, and is absolutely every inch a Bradford and has that special charm. It is a little over the top in parts, but I think those pieces just add to the total fun of the novel. A great story that has the perfect amount of romance, humor, and sexy times,
The Game Plan
is Mathewson's crowning achievement of 2014!
Neighbor from Hell Series
Book Details
Publisher: Rerum Industries, Inc.
Date of Publication: December 27, 2014