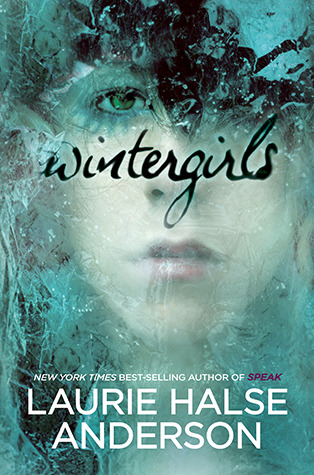 The Wintergirls
By: Laurie Halse Anderson
Synopsis
"Dead girl walking", the boys say in the halls.

"Tell us your secret", the girls whisper, one toilet to another.

I am that girl.

I am the space between my thighs, daylight shining through.

I am the bones they want, wired on a porcelain frame.




Lia and Cassie are best friends, wintergirls frozen in matchstick bodies, competitors in a deadly contest to see who can be the skinniest. But what comes after size zero and size double-zero? When Cassie succumbs to the demons within, Lia feels she is being haunted by her friend's restless spirit.




Laurie Halse Anderson explores Lia's descent into the powerful vortex of anorexia, and her painful path toward recovery.
My Thoughts
Lia begins Wintergirls by hearing the terrible news that her former best friend has died, alone, in a hotel. What follows is a whirlwind of emotions as Lia wonders what she could have done to help her dead friend while spiraling downward into her own bout with anorexia and mental illness. Lia presents her story in the first person, often crossing out thoughts she wishes she wasn't having with thoughts she thinks everyone wants her to have. To add to this difficult situation, Lia's parents seem disinterested in her issues and more absorbed in their own careers than their daughter's problems.
Incredibly heart wrenching and an emotionally moving story, Wintergirls takes us into the mind of a teenage girl in the midst of her own mental breakdown. Having a break in reality and seeing her dead friend every night before she sleeps, Lia's mind plays tricks with her emotions and without much support from either her family or her friends, she continues to spiral downward. I was touched by how ingenious Lia was in hiding her anorexia from her parents (pennies in the pocket of her robe to weigh more), and appalled at how little her parents seemed to want to address her issues until it was too late.
Book Details
Date of Publication: March 19, 2009