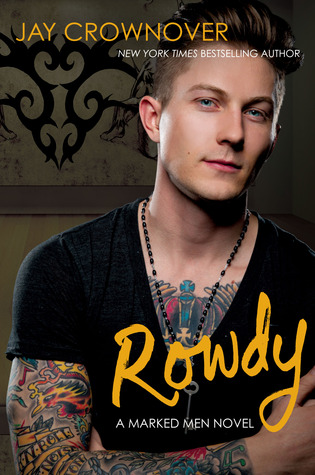 Rowdy
Synopsis
After the only girl he ever loved told him he would never be enough, Rowdy St. James knocked the Texas dust off his boots and decided he was going to do everything in his power to live up to his nickname. Life was all about a good time, good friends and never taking much too seriously. Rowdy learned his lesson early on, when you care that much about anything it can destroy you, and he never wants to risk feeling like that again. Only now he has a new coworker, a ghost from the past who's making him question every lesson he ever learned.



Salem Cruz grew up in a house with too many rules, too many regulations, and no fun allowed. That never worked for her so she left it all behind as soon as she could, but she never forgot the sweet, blue-eyed boy next door who'd been in love with her little sister. Fate and good intentions from an old friend have placed her right in Rowdy's path and she's determined to show him he picked the wrong sister all those years ago. A mission that is going along perfectly until the one person that ties them together shows up and could very well tear them back
My Thoughts
Rowdy St. James is used to being left by the ones he loves. His mother was murdered when he was still a child, his father was nonexistent in his life, and his best friend Salem, left town when she turned 18. So when Salem shows back up 10 years later, he is understandably unsure of how to relate to the girl he once knew. The only thing he knows for sure, he isn't ready to connect with his former friend only to be hurt once again.
Salem Cruz ran away at the age of 18 to escape from her tyrannical father. Independent for the first time, she never forgot her friend Rowdy or their intense connection. She hears through the grapevine that he is now working in a tattoo parlor in Denver so when she is offered a job in the very same shop, she takes it thinking she and her friend will have a good reunion. Little does she know that their relationship is about to go to the next level.
Jay Crownover is simply wonderful. I love her writing style and the characters are always written superbly. She takes tattooed bad boys who have been on the wrong side of the law more than once and makes them someone you wanna take home to Mama.
Rowdy and Salem have a lot of history to work through. Rowdy has led such a lonely life with everyone leaving him, it's truly heartbreaking. You can honestly feel his loneliness and understand how hesitant he is to connect with Salem again. Salem herself has been dealing with severe mental issues developed by a lifetime of abuse from her father. Definitely emotional, but finally when they connect its like fireworks!
A tumultuous, emotional yet sexy novel, Crownover can write damaged characters unlike any other. Fantastically entertaining, I was drawn into Rowdy's story and fell in love with Salem. The secondary characters from previous novels are featured and I loved catching up with my favorite Marked Men. Look for more Marked Men fun next year when Asa gets his own story!
Marked Men
Publisher: William Morrow Paperbacks
Date of Publication: October 21, 2014
Source: Edelweiss - for Review