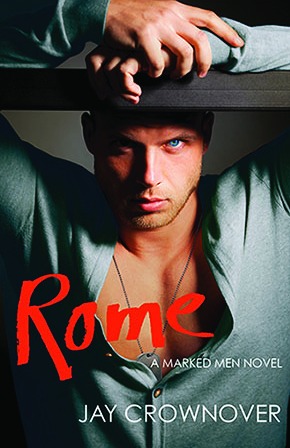 Rome
Synopsis
Sometimes the wrong choice can be just right . . .
Fun and fearless, Cora Lewis knows how to keep her tattooed "bad boy" friends at the Marked in line. But beneath all that flash and sass is a broken heart. Cora won't let herself get burned again. She's waiting to fall in love with the perfect man—a baggage-free, drama-free guy ready for commitment. Then she meets Rome Archer.




Rome Archer is as far from perfect as a man can be. He's stubborn, rigid, and bossy.
And he's returned from his final tour of duty more than a little broken. Rome's used to filling many roles: big brother, doting son, supersoldier—but none of those fit anymore. Now he's just a man trying to figure out what to do with the rest of his life while keeping the dark demons of war and loss at bay. He would have been glad to suffer through it alone, until Cora comes

sweeping into his life and becomes a blinding flash of color in a sea of gray.Perfect may not be in the cards, but perfectly imperfect could just last forever . . .
Cora is the smart mouthed, loud, sassy manager of the Marked Men tattoo shop in Denver. Keeping the tattoo artists in line is her job and she doesn't have time for much else. When Rome Archer (brother to the infamous Rule) arrives in town, with a bad case of PTSD, pissed off at the world and self destructive, she finds herself making time for the handsome soldier immediately.
Rome has went to war, fought a battle for his life and his soul, and now has returned to civilian life. Lost within himself, Rome has turned to violence and alcohol to soothe his soul. When a night of drinking has him calling his brother, it's Cora who answers the call for a sober driver. A night of passion later, Cora and Rome embark on a voracious romance that changes their lives and their fates forever.
Perhaps my favorite to date, I knew from the very beginning that I was going to love Rome. Always so protective and by instinct the most loyal, Rome is heartbroken when he returns. He doesn't feel like he knows his family anymore and his whole world is upside down when he returns. Cora is so different from him and takes no prisoners. Strong and independent, Cora is wary of falling for Rome. She knows he needs help, but can she truly be the help he needs?
Adorable and fun, I absolutely fell in love with Rome. Crownover does a great job of writing Cora and her interactions with the boys of the shop had me laughing out loud. Her no holds barred treatment of Rome and her sensitivity when dealing with his PTSD is handled with care and realistically related. Maybe my favorite part? Rome is dirrrrty when the times call for it and we all know Crownover rocks the dirrrty! Next up is Nash!
"She was also damn cute. Not beautiful or stunningly pretty, but she was cuter than any girl with that much attitude had a right to be, and somehow the bouquet of flowers that colored her skin in every shape and variety seemed like it belonged there."


Publisher: HarperCollins Publishers
Date of Publication: January 7, 2014
Source: Personal Purchase