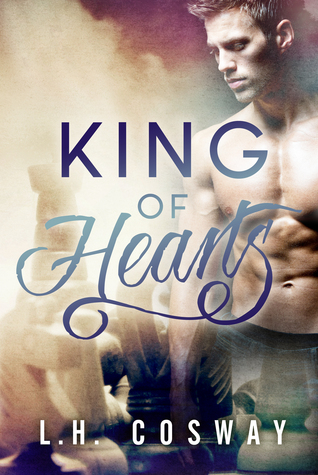 King of Hearts
Welcome to the City, London's most prestigious square mile, where finance reigns and Oliver King is a rising prince.
I used to rule the world.




There might be wolves on Wall Street, but there were crocodiles in Canary Wharf. Some of us craved money. Some of us craved power.




I liked money, and power had its advantages, but what I really wanted was to excel, to surpass the men who came before me. I never cared much for love and romance until I met Alexis.




I could feel it the very moment she walked into the interview, with her outspoken charm and vivacious personality. She cast all the others in shadow, made me laugh when life held no humour. Our friendship should have remained professional, but it wasn't long before the lines started to blur.




You know what they say about the best laid plans of mice and men? Well, I never foresaw where my plans would lead, and only in my darkest hour did I finally see the light…




You can have all the money and prestige in the world and still be the poorest man alive. And love, well, I hate to use a tired old cliché, but love can be the thing that truly sets you free.
What do you do when you think everything is lost?
King of Hearts
is a truly magnificent story of redemption and love. Fans of L.H. Cosway will recognize her trademark wit while enjoying the unique view of her truly scrumptious story.
King is first viewed in
Hearts of Fire
. Drunk, dirty, poor, and a wreck, King travels with his sister's circus in despair. Broken hearted and down on his luck, the other performers have wide berth to the dirty, sunken man. So this is where we originally see King…
As
King of Hearts
begins, we are thrown into the past. Oliver King is a super successful investment broker with a fancy office and loads of money. Incredibly suave, King has the world at his feet. Women want to date him, men want to be him.
This is the environment that Alexis Clark is hired into. Entranced by the enigmatic King, she is quickly swept up into his world. Alexis is a young 20-something finding her way in London. Smart, she is enchanted by the mysterious King and ultimately falls deeply in love with him. After something truly heartbreaking happens, King goes missing and Alexis is left alone with a secret she can never reveal.
Fast forward a number of years and we are once again seeing King as the drunken mess that he has become. Concerned, Alexis receives a letter from a performer at the circus encouraging her to come and help. It is up to Alexis to bring King out of his stupor and once again make him the man he once was.
An extremely well written book, I adored the before and after look at these two dynamic characters. Each one grows and changes as the years and memories take their toll. I recently tweeted LH Cosway worried that King may not get the happy ending he deserved, and she quickly reassured me. Without a doubt, King has a utterly lovely story and is given a perfect queen for his "King."

Please note: King of Hearts can absolutely be read alone, but I strongly suggest reading Six of Hearts and Hearts of Fire because they are both absolutely wonderful!
Date of Publication: July 16, 2015
Location: London, England
Source: ARC for Review from Author