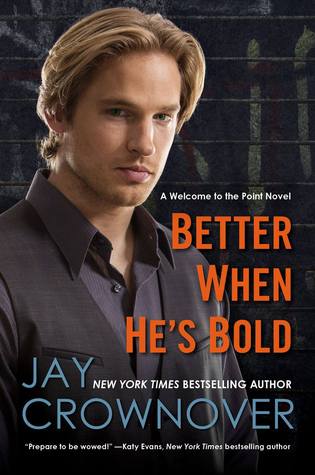 Some men are just better when they're bold.




Welcome to the Point...




In a dark and broken kingdom, a ruler has to be fearless to control the streets and the ruthless people who run them.




Race Hartman is just bold enough, just smart enough, and just lost enough to wear the crown. Places like the Point will always have bad things and bad people, but the man in control of all that badness can minimize the devastation. Race has a plan, but can he prevent total annihilation without destroying himself?




Brysen Carter has always seen her best friend's brother for what he is--too pretty, too smooth, and way too dangerous to touch. Basking in Race's golden glow is very tempting, but Brysen knows she'd eventually get burned.




When she starts receiving threatening texts and someone tries to take her out in parking lot, the only person interested in keeping her safe is the one man she can't allow herself to have.




Sometimes being bold is the only way to stay alive. But can she let Race save her life . . . if it means losing herself to him?
Race is the ultimate bad boy. He steals, he cheats, and he is always looking for ways to get ahead in the Point, filled with criminals and bad guys. Race revels in being one of the baddest of the bad. Considered almost royalty in the Point by his association with the other criminal element, Race loves only his sister and barely tolerates Bax, his childhood friend and almost brother in law.
Brysen is as opposite from Race as you can be. She's trying to go to school, attempting to take care of her little sister and dealing with her Mother's health issues...all while trying to be a normal twenty something. When someone begins threatening Brysen at work, Race steps in and sparks explode between the two. Is Brysen ready to take on all that is Race and be his Queen of the Point or will she fear for the future?
Jay Crownover is one of my favorite authors. She can write the absolute worst characters that you don't think can be redeemed..and she makes them totally redeemable. At the end of the previous book, you hate Race. Seriously. He's this egomaniac with a devil may care attitude. Yet, the minute Brysen needs him to be her knight, he steps up to the plate. He becomes the man that Brysen needs and I absolutely fell in love with him.
Hot and captivating,
Better When He's Bold
is my newest favorite Crownover book. She brings two wildly different characters and gives them the perfect story. Entertaining and super sexy, Crownover can bring the naughty unlike anyone else. A great story that only brings you closer to the edge, I can't wait to read
Better When He's Brave
, coming in June 2015!
Welcome to the Point Series
Book Details
Publisher: William Morrow & Company
Date of Publication: February 3, 2015