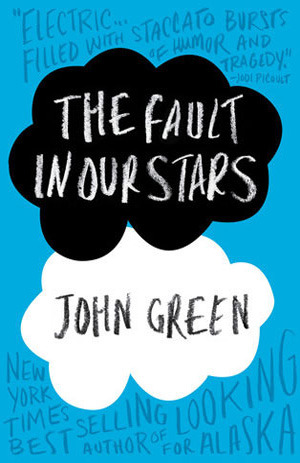 The Fault in Our Stars
By: John Green
Synopsis
Despite the tumor-shrinking medical miracle that has bought her a few years, Hazel has never been anything but terminal, her final chapter inscribed upon diagnosis. But when a gorgeous plot twist named Augustus Waters suddenly appears at Cancer Kid Support Group, Hazel's story is about to be completely rewritten.
My Thoughts
What can I say about this book that hasn't been written? Gorgeous, sweet, heartbreaking, sensitive, fun, and completely and utterly wonderful are the first words that come to mind to be quite honest. I devoured this book on a Sunday afternoon complete with ugly snot crying in my bedroom before bed.
I fell in love with Hazel Grace and Augustus because of their hearts. Living with a deadly disease, Hazel could have fallen into a deep depression. She could have given up on life. As could Augustus to be honest, but they used the strength from one another to be strong. They were so strong, even in the face of death, sickness and heartache.
My friend Katy from southern Missouri has written a
fantastic review on Goodreads
if you want to find it. Her words on the cover got to me though and I completely agree with her view.
"People ask about the cover and what it has to do with the book. Here's my thoughts: In the book Augustus and Hazel talk about when they were kids and dreamt about living on a cloud before Augustus's teacher slashed his dream by telling him it was too windy and cold and he would die on the cloud. So I think the black cloud represents death and broken dreams and the white cloud represents hope and life. Kind of a huge symbol for this book." (Katy, MO)
Never have I had a book grab me and stay with me like this one has. Even now, months later, its still in my head. Just watching the trailer makes me want to tear up. Highly emotional but so worth it, my only regret is that I didn't read it sooner.
Date of Publication: January 10, 2012
Location: Indianapolis, IN