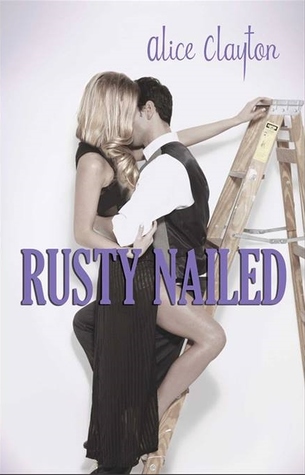 Rusty Nailed
By: Alice Clayton
Synopsis
In this sequel to Wallbanger, the second book in the Cocktail series, fan favorites Caroline and Simon negotiate the rollercoaster of their new relationship while house-sitting in San Francisco.
Playing house was never so much fun—or so confusing. With her boss on her honeymoon, Caroline's working crazy long hours to keep the interior design company running—especially since she's also the lead designer for the renovation of a gorgeous old hotel on Sausalito. So with her hotshot photographer boyfriend gallivanting all over the world for his job, she and Simon are heavy-duty into "absence makes the heart grow fonder" mode. Neither has any complaints about the great reunion sex, though! Then Simon decides he's tired of so much travelling, and he's suddenly home more. A lot more. And wanting Caroline home more, too. Though their friends' romantic lives provide plenty of welcome distraction, eventually Caroline and Simon have to sort their relationship out. Neither wants "out of sight, out of mind," but can they create their own happy mid-ground cliché?
USA TODAY bestselling author Alice Clayton delivers another delicious, frothy cocktail of a book, shaking up her characters, stirring in laugh-out-loud humor, and serving sizzling romance straight up.
My Thoughts
A fantastic follow up to
Wallbanger
, Caroline and Simon are living their happily ever after in
Rusty Nailed.
This is the story of what happens after finding your soulmate. They love one another desperately, but finding room in life for each other proves to be a bit more difficult than either anticipated.
I adored Caroline and Simon in Wallbanger, so I was thrilled when I heard the sequel was coming out. Totally going to name drop, but I was lucky enough to meet Alice Clayton in May at a Chicago book signing. Trust me, I tried to get some hints at what was to come, and she was a steel trap. Fantastically nutty and a girl you'd totally want to have a martini with, let me assure you.
Simon and Caroline are going through growing pains in the months following the end of Wallbanger. Simon slowly becomes disenchanted with his life as a world traveler and wants to spend more time with Caroline. After traveling for years, he's content to be at home. Caroline begins to question if he's truly content or if more things are really happening under his tough exterior.
I would strongly recommend reading Wallbanger before picking up Rusty Nailed. Irreverently hilarious and ultra sexy, Rusty Nailed is utterly wonderful. Alice Clayton has another hit on her hand!
Book Details
Date of Publication: June 24, 2014
Location: San Francisco, California
Source: Personal Purchase