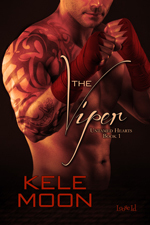 The Viper
Synopsis
Marcos Rivera is a fighter. A gang member. Someone who has seen the dark side of humankind and survived. He has lost family and gained enemies. He has stolen cars and destroyed hearts, stripping one for money and the other for pleasure. His past is haunted and his future is bleak.
Until her.
Katie Foster is a high school history teacher. Smart, strong, and sexy. She is a woman Marcos shouldn't want. Shouldn't touch. Shouldn't love. He met her in Garnet, a backwards, hick town that's the last place in the world he wants to be, but he finds himself going back for a taste of the forbidden.
Katie represents all that is good in the world, and Marcos knows he's nothing but trouble for her perfect life. He fights and he screws. He commits crimes and he breaks the rules. He will never change and he will never escape his gang lifestyle.
Or can he?
What happens when two different people from two very different walks of life risk it all by giving into the passion that threatens to consume both of them? Can a woman who only knows how to play it safe give her heart to a man who lives hard and loves harder?
Will she survive The Viper?
My Thoughts
Marcos and Katie's paths cross in an unconventional way, they meet one another on a cold winter's night when Marcos' car crashes into Katie's. She becomes injured and its in those brief, crucial minutes they form a connection that is unbreakable. Their widely different backgrounds don't matter, those moments stolen in the dead of night cemented their relationship. Yet the world seems to be conspiring to keep these two people apart.
Marcos is better known as a thug. He is a well known gang member from Florida and has even spent time in prison for gang activities. He has no future except for gang related activities. Yet when confronted with the absolute goodness that Katie represents, he can't help but want something more from life. Katie, a high school teacher, has been a good girl all of her life. Went to school, had a job, always colored inside the lines...until her intense attraction to Marcos, who could be trouble to her very ordered life.
I absolutely adore Kele Moon. She has a way of writing characters, who even though they may have major flaws (hello, gangbanger!!) you completely and utterly fall in love with them. Criminals, thieves, and violent to the extreme, I still was able to sympathize and understand their motivations.
The romance, oye the romance. Katie has been sheltered all her life and its as if Marcos brings light into her world. The same is true for Marcos, he has been living this chaotic existence and with Katie and her naive and calm nature, his life starts to make sense. He in turn becomes more calm and better able to make sense of the chaos around him. These two wildly different people, who while on paper should never ever work, completely click and bring order to one another.
Kele Moon has once again knocked my socks off with her writing. Wildly romantic, funny, sweet, and full of suspense with a teensy bit of mystery, The Viper is a fantastic start to a series I know I am already going to love. Real and original, Marcos and Katie's story is agonizing but ultimately uplifting. Filled with glimpses into the lives of her previous series, the new series will hopefully take place in our favorite town of Garnet as well. Moon's voice is simple yet her story is complex and unforgettable. Another fantastically well done story, I can't wait to read the next book in the Untamed Hearts series, The Slayer.
**Note, the books can be read alone, but as I adore them and think they add so much,
I would totally recommend reading Defying the Odds,
Star Crossed, and Crossing the Line. **
Untamed Hearts Series
Links:
Author Bio:
A freckle faced, redhead born and raised in Hawaii, Kele Moon has always been a bit of
a sore thumb and has come to enjoy the novelty of it. She thrives off pushing the
envelope and finding ways to make the impossible work in her story telling. With a mad
passion for romance, she adores the art of falling in love. The only rules she believes in is
that, in love there are no rules and true love knows no bounds. So obsessed is she with the beauty of romance and the novelty of creating it she's lost in
her own wonder world most of the time. Thankfully she married her own dark,
handsome, brooding hero who had infinite patience for her airy ways and attempts to
keep her grounded. When she leaves her keys in the refrigerator or her cell phone in the
oven he's usually there to save her from herself. The two of them now reside in Florida
with their three beautiful children who make their lives both fun and challenging in equal
parts–They wouldn't have it any other way.
Author Social Links:
Tour Giveaway Info
Kele is offering the following prizes for the tour wide giveaway. The giveaway is open
internationally and ends 08/31/2014 @ 11:59 PM CST.
1 x $25 Amazon or B&N gift card (winners choice)
5 x eBook copy from any of Kele's backlist including The Viper