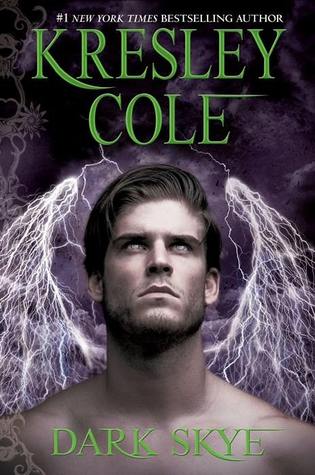 Dark Skye
Eternal Obsession




As a boy, Thronos, Lord of Skye Hall, loved Lanthe, a mischievous Sorceri girl who made him question everything about his Vrekener clan. But when the two got caught in the middle of their families' war, tragedy struck, leaving Thronos and Lanthe bitter enemies. Though centuries have passed, nothing can cool his seething need for the beautiful enchantress who scarred his body - and left an even deeper impression on his soul.



Endless Yearning




Lanthe, a once-formidable sorceress struggling to reclaim her gifts, searches for love and acceptance with all the wrong immortal suitors. But she's never forgotten Thronos, the magnificent silver-eyed boy who protected her until she was ripped from the shelter of his arms. One harrowing night changed everything between them. Now he's a notorious warlord with a blood vendetta against Lanthe, hunting her relentlessly.



Can the heat of desire burn brighter than vengeance?




With their families locked in conflict and battles raging all around them, will Thronos and Lanthe succumb to the brutal chaos that threatens everything they cherish?

Or will the fragile bond they formed so long ago spark a passion strong enough to withstand even the darkest doubts?
Thronos has loved Lanthe since he was a child. Immediately recognizing her as his one true mate, Thronos realizes he would do anything to possess Lanthe's body and heart. When unforeseen circumstances force these two friends apart, space and time keep them apart for hundreds of years. Thronos is desperate to rekindle that flame that started all those years ago, but Lanthe fears what has happened and what the future may hold.
Mind boggling is the first word that came to my head when I finished
Dark Skye
. Absolutely mind boggling, turn your insides out, wildness that was so good I had to read it again. Kresley Cole does storytelling like no other. She is able to weave intermingling story lines through several books so seamlessly it's truly astonishing. Lanthe and Thronos' tale has actually spanned several books but it isn't until now we understood why the fearsome Thronos both hated and loved Lanthe equally.
At times intense and others super sexy, Cole uses their shared histories and the upcoming ascension to set the scene of an epic adventure. Beginning by breaking out of the prison of immortals, the star crossed lovers travel through different planes before ultimately reaching the Vrekener stronghold. Throughout their escapades, they find out their shared histories may not be exactly what they thought while falling head over heels for one another.
Another winner from Kresley Cole,
Dark Skye
is a fantastic addition to the saga that is the
Immortals After Dark series
. With glimpses into the lives of our favorite characters, a teensy bit of news on Nix, and a fantastic relationship/adventure between two of my absolute favorites in the series, Lanthe and Thronos make the wait worth it. As always, to truly appreciate the fabulousness of the series, I totally suggest reading the books before to understand the subtle genius that is Kresley Cole.
Immortals After Dark Series
2. A Hunter Like No Other
3. No Rest for the Wicked
4. Wicked Deeds on a Winter's Night
5. Dark Needs on Night's Edge
6. Dark Desires After Dusk
8. Untouchable
9. Pleasure of a Dark Prince
10. Demon from the Dark
13. MacRieve
Date of Publication: August 5, 2014