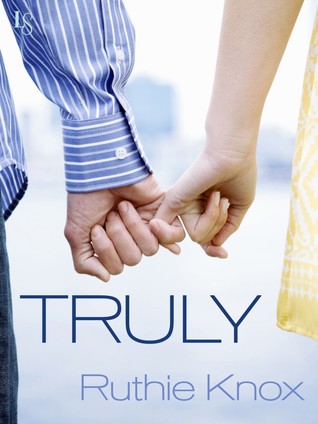 Truly
By: Ruthie Knox
May Fredericks hates New York. Which is fair enough, since New York seems to hate her back. After relocating to Manhattan from the Midwest to be with her long-distance boyfriend, NFL quarterback Thor Einarsson, May receives the world's worst marriage proposal, stabs the jerk with a shrimp fork, and storms off alone—only to get mugged. Now she's got no phone, no cash, and no friends. How's a nice girl supposed to get back to safe, sensible Wisconsin?

Frankly, Ben Hausman couldn't care less. Sure, it's not every day he meets a genuine, down-to-earth woman like May—especially in a dive in the Village—but he's recovering from an ugly divorce that cost him his restaurant. He wants to be left alone to start over and become a better man. Then again, playing the white knight to May's sexy damsel in distress would be an excellent place to start—if only he can give her one very good reason to love New York.
May finds Ben at one of the lowest points in her life. She is sitting in a bar, without a dollar to her name, after stabbing her NFL ex-boyfriend in the hand with a fork over a botched proposal. Lost and alone in New York, Mary glances at Ben in a bar and decides he just may be her saving grace.
Ben is no hero. Fresh from a shattering divorce that ruined him career wise, he is coasting. No real job, no real passions, no home and no family to speak of, when May approaches Ben in a bar he is a little perturbed. Deciding for once to be the nice guy, he invites her to spend the night..one night until she catches her plane home. That one night turns into a week of laughter, friendship, misunderstandings, sexytimes and love.
Ruthie Knox is one of the best writers out there now, bar none. She writes such real characters with such honesty behind them that I simply devour her stories.
Truly
isn't the easiest book to read, these two character have such sad pasts that they aren't easy people to like. Ben from the get go seemed so condescending but as I read, I realized he was just misunderstood and circumstances had misconstrued his actions.
As I said before,
Truly
isn't an easy read. Ben is a tortured soul with no forseeable way out of his misery. May is misunderstood by all of those around her, until Ben. He really sees her, not the perfect image she portrays. As they get to know one another better, its so illuminating to who they are exactly. They don't become themselves until they are together and it isn't until they accept one another that they can truly accept who they are at heart.
Knox writes people to where you know them inside and out. You clearly see them change and grow and as they find true love, you yourself fall in love. May was a mess but she was the best kind of mess. I adored her and her conflicted emotions and while Ben had to grow on me, he had to grow on May too.
Truly
is another Knox classic. Well written, heartwarming, sweet, super sexy with a dash of heartbreak and soulsearching, I devoured this fabulous story within two days. Honestly, two days of not getting dressed and spending the day in bed reading because I had to know what happened next. An absolutely fabulous read about two imperfect people, I can't wait to see what Ruthie Knox will come up with next.
Book Details
Publisher: Random House Loveswept
Date of Publication: August 5, 2014